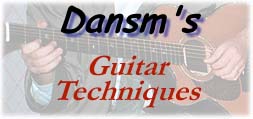 Palm Muting
Stone Temple Pilots' Plush
---
Plush, by the Stone Temple Pilots, contains a great example of palm muting. Listen to this example as you view the tab shown below. Then try to play the example using the technique you learned on the previous page.

84K wav file
                     Where you going  
   D#maj7                             
   +   +   +   +     +   +   +   +    
e:-3---3---3-3-3-3-|-3---3---3---3-3-|
B:-3---3---3-3-3-3-|-3---3---3---3-3-|
G:-3---3---3-3-3-3-|-3---3---3---3-3-|
D:-1---1---1-1-1-1-|-1---1---1---1-1-|
A:-1---1---1-1-1-1-|-1---1---1---1-1-|
E:-----------------|-----------------|
muting:   [覧覧余           [覧覧余   
The 覧 indicates the use of palm muting for the duration of the symbol.
---
This should give you an idea of what palm muting sounds like and how it is used in songs. You should be able to hear palm muting in many popular songs, and it is most often, but not necessarily, used by electric guitarists. So go out and play around with the wide variety of sounds you can get from it.
---
The wave file and tab appearing above is from the Stone Temple Pilots' Plush, by Scott Weiland and Robert DeLeo; as it appears on the album Core. ゥ1992 Floated Music, ASCAP.
---
Back to Muting Technique
You are visitor number
since 8-30-97
---
ゥ 1997 Daniel E. Smith. Last updated 12-9-97