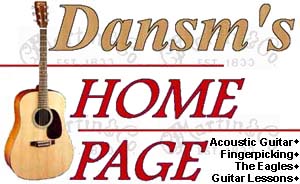 ---
Hi! Welcome to Dansm's Guitar Pages. My name is Dan Smith, I'm a first-year grad student at Harvard, and I've been playing guitar for 5 years now. This page is the index to every page on my site. As you can see, I have quite a few pages by now. I also offer a recent-update page which lists all the changes I have made in the past month. I hope you find this page useful in analyzing and making your way around my site.
---
Dansm's Home Page
---
Back to Dansm's Home Page



You are visitor number
since 8-26-98
---
© 1998 Daniel E. Smith. Last updated 10-4-98.