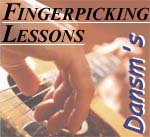 Welcome to Dansm's Fingerpicking Lessons! My name is Dan Smith, I'm a first-year grad student at Harvard, and I've been playing guitar for 5 years now. This page has been up for over 6 months now but I decided to rearrange it a bit. I hope you like the new look! These lessons are designed to teach beginning guitarists how to fingerpick. All you need is a guitar, a knowledge of basic chords, and a desire to learn fingerpicking. Just make sure you go through each lesson in order and take your time--the longer it takes the better you will become. If you find the information on these pages useful, or if you have any questions, please e-mail me. Enjoy the lessons!
---
Introduction to These Lessons
helpful hints and important information to know before you begin

Losing the Pick
the first thing to learn is how to strum without a pick

Getting Your Fingers In On The Action
learn how to use your fingers to pick

Your First Picking Pattern
here you will start fingerpicking

More Complex Picking Patterns
begin changing chords

Changing Strings While Picking
moving your fingers around to vary your sound

Two- and Three-Note Chords
a variation on the fingerpicking that you have learned so far, used by most performers



---


Fingerpicking Songs
a collection of songs using fingerpicking by a wide variety of artists; use these to hone your skills
---
Dansm's Home Page
Dansm's Acoustic Guitar Page
Dansm's Guitar Page
---



You are visitor number
since 2-15-97
---
© 1997 Daniel E. Smith. Last updated 10-16-97.