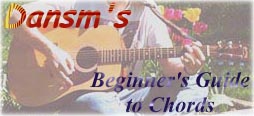 Easy Songs
---
Welcome to Dansm's Beginner's Guide to Chords Easy Song Page! My name is Dan Smith, I'm a senior at Cornell, and I've been playing guitar for 4 years. The main purpose of this page is to give beginners experience using, playing, and switching between open chords. These chords are the backbone of guitar, so experience playing them will certainly help you in the future. If you are a beginner, you may also want to check out my beginner's page, because it will give you some more playing instruction. Good luck, have fun, and keep playin!
---
The songs on these pages contain mostly open chords. If you see a chord that I haven't taught you, either try to play it or skip it. Most chord formations you will encounter can be found in my common chord list, and if it's not there, check the bottom of the song--it may be there. I hope this helps! Good luck, have fun, and keep playin'!
DISCLAIMER:
The tablature on this page is my own work and represents my interpretation of the song. The tablature on this site may be used only for private study, scholarship, or research. It may not be used in a commercial setting nor may it be reproduced or disseminated to others in any form, including printing this tablature or saving these files on your computer. These songs may not be performed for others without appropriate licensing from ASCAP/BMI.
---
in alphabetical order by artist
Run Around
Blues Traveler
Margaritaville
Jimmy Buffett
Motherless Child
Eric Clapton
Bad Moon Rising
Creedence Clearwater Revival
Who'll Stop the Rain
Creedence Clearwater Revival
Helpless
Crosby, Stills, and Nash
Teach Your Children
Crosby, Stills, and Nash
Breakfast at Tiffany's
Deep Blue Something
Two Steps Behind
Def Leppard
Take it Easy
Eagles
Uncle John's Band
Grateful Dead
Good Riddance (Time of Your Life)
Green Day
Patience
Guns 'N' Roses
Let Her Cry
Hootie and the Blowfish
Land of Canaan
Indigo Girls
Shame on You
Indigo Girls
Hang
Matchbox 20
Nothing Else Matters
Metallica
And It Stoned Me
Van Morrison
About a Girl
Nirvana
Jesus Don't Want Me For a Sunbeam
Nirvana
Pennyroyal Tea
Nirvana
Free Fallin'
Tom Petty
The Gambler
Kenny Rogers
Me and Julio Down by the Schoolyard
Simon & Garfunkel
Mrs. Robinson
Simon & Garfunkel
Throw It All Away
Toad the Wet Sprocket
I Wish I Felt Nothing
The Wallflowers
Sixth Avenue Heartache
The Wallflowers
---
Back to Dansm's Guide to Open Chords
Back to Dansm's Beginner's Guide to Chords
Dansm's Acoustic Guitar Page
Dansm's Guitar Chord Theory Page
Dansm's Advice for Beginning Guitarists

You are visitor number
since 12-20-97
---
© 1998 Daniel E. Smith. Last updated 1-6-98.