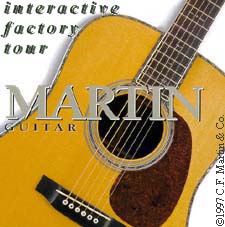 C.F. Martin & Co.
Interactive Factory Tour CD-ROM
$19.95
Produced and Distributed by G2G Productions, Inc.
---

To order direct from G2G, send a check made out to G2G Productions, Inc.
in the amount of $22.95 ($19.95 + $3.00 S&H) to the address shown below:

G2G Productions, Inc.
238 Broadway Street
Cambridge, MA 02139

If you have questions, call (617) 868-4424.


---
Back to C.F. Martin Factory Tour review

You are visitor number
since 4-14-97
---
©1998 Daniel E. Smith. Last updated 2-16-98.